The Development Ministerial Meeting (DMM) under the Indonesian G20 presidency was held on 7–9 September 2022 in Belitung. The Ministerial Meeting was attended by ministerial-level delegations from all invited G20 members, guest countries, international organizations, and multilateral development banks.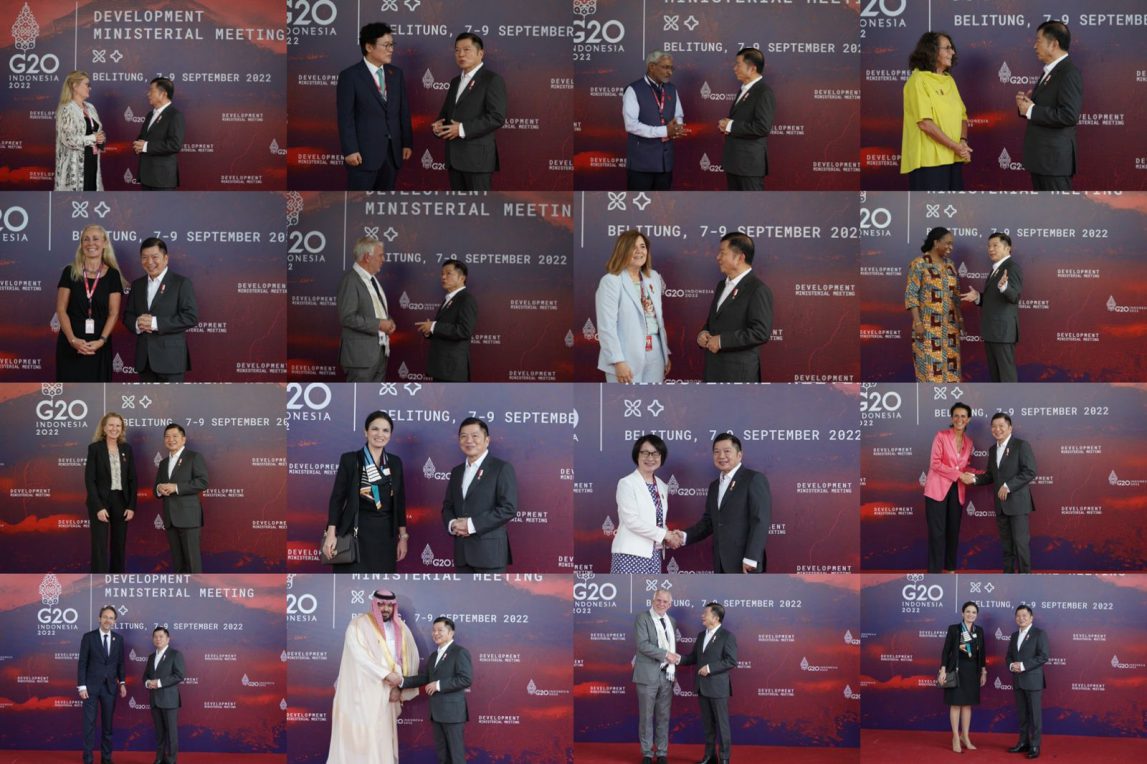 The main sessions of the Ministerial Meeting took place on 8 September 2022, divided into two sessions. The first session, with its theme of Advancing SDGs Achievements through Strengthening Resilience Against Future Crises and Promoting Innovative Financing Mechanism, highlighted the collective actions of the G20 in contributing towards the advancement of SDGs achievements – particularly through accelerating sustainable post-pandemic recovery, strengthening resilience against further crises, and supporting optimal operationalizations of innovative financing mechanisms and blended finance.
Afterward, the second session titled Reinvigorating Global Commitment to Multilateralism for Timely Delivery of SDGs Achievements emphasized the pressing urgency to reinvigorate multilateralism in implementing the 2030 Agenda and achieving its Sustainable Development Goals (SDGs). Amidst the challenging times of multiple crises and different outlooks, which were further exacerbated by the COVID-19 pandemic, business-as-usual multilateralism was deemed insufficient to sustain multilateral cooperation that significantly contributed towards tackling development challenges and putting SDGs achievement back to its initial target of 2030. Therefore, the G20 needs to renew its commitment towards a more inclusive multilateralism that puts SDGs achievement in a timely manner at its center.
Building upon the discussions previously agreed on the Development Working Group (DWG) meetings as well as the the G20 Development Ministerial Meeting held in Belitung, a Chair's Summary on Multilateralism for SDGs–which highlighted the current global development challenges that hinder efforts towards timely achievement of SDGs by 2030 and the need to reinvigorate multilateralism in order to tackle such development challenges–was produced. The Ministers also acknowledged the outcome documents agreed at the DWG level, namely the G20 Roadmap for Stronger Recovery and Resilience in Developing Countries, including Least Developed Countries (LDCs) and Small Island Developing States (SIDS) and the G20 Principles to Scale up Blended Finance in Developing Countries, including LDCs and SIDS.
Prior to the Ministerial Meeting, two High-Level Side Events were also held from 7 September 2022. The themes of the side events were Harnessing The Ecosystem of Aerospace Industry in Indonesia and The Development of Indonesia's Blue Economy Roadmap. After the Ministerial Meeting concluded, delegates were invited to island-hopping Site Visit around the outlying islands of Belitung on 9 September 2022. The site visit was carried out to introduce Belitung's practice as an inclusive and sustainable tourism destination, which aligns well with the objectives of the G20 Presidency.